A weak trough is drifting across central Saskatchewan and is providing the needed lift and instability to potentially trigger another day of severe thunderstorms on the Prairies.
A possible mesoscale convective system, which is a long-duration thunderstorm, could slide across southern Saskatchewan overnight into early Sunday morning and could bring torrential rains and strong winds.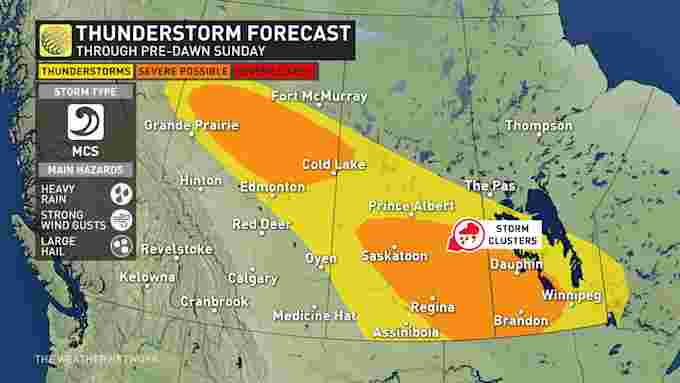 Stronger storms are also possible across northern Alberta through the pre-dawn hours as well. Heavy rainfall and frequent lightning will be the most common feature of the nocturnal storms as they move around a strong area of ​​high pressure to the south.
READ MORE: Rainwater is now unsafe to drink due to 'forever chemicals,' study says
The risk of severe storms is focused in eastern Saskatchewan and western Manitoba. Large hail could occur and some hailstones have the potential to exceed 4 cm in diameter.
The thunderstorm risk will continue to track east on Monday, allowing the opportunity for thunderstorm development across a broader region of southern Manitoba.
Temperatures across the Prairies are experiencing unusually high temperatures with some areas' thermometers reading 5-7°C above seasonal.
Next week: Rising heat will blanket the Prairies
A high pressure ridge coming from south of the border will push itself into the southern regions of the Prairies over the next week. This will bring high heat to the provinces and is expected to last most of the week.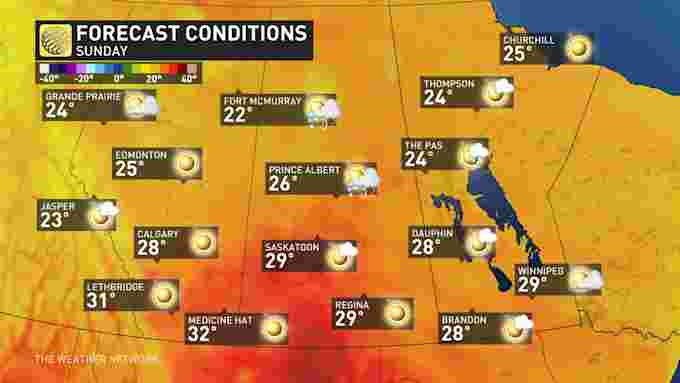 The southern Prairies can expect a long duration stretch of high temperatures in the 30s. The extent of the 30-degree daytime highs could start to approach monthly record territory for Medicine Hat as the region heads through the middle of the month.
.