The weekend in southern Ontario and Quebec will close out with more of the same heat and humidity as seen on Saturday, accompanied by a greater chance of thunderstorms. Because of the ample amount of atmospheric moisture and high humidity values, storms that develop Sunday may produce torrential rainfall — increasing the chance of flooding, especially in eastern Ontario and southern Quebec. Rainfall warnings and severe thunderstorm watches have been issued for parts of the aforementioned regions. For details on the heat, humidity and thunderstorm risks for Sunday and Monday, read below.
---
MUST READ: What to take on a day trip to the sunflower fields
---
Sunday: Heat continues, higher threat for storms with heavy rain, flood potential
Heat warnings remain in place for millions of people across southern Ontario and Quebec as temperatures into the low 30s and Humidex values ​​approaching, at or exceeding 40 are anticipated.
On Sunday, a boundary will slowly track south through the day, bringing a better chance of storms to Central Canada.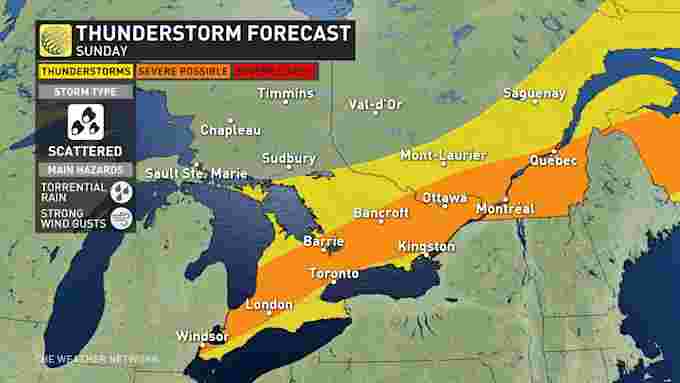 Storms will begin to pop up across southwestern Ontario and the Eastern Townships in Quebec in the late afternoon and early evening as the boundary approaches the regions.
Any thunderstorms that do initiate will have the ability to tap into ample amounts of tropical moisture in the atmosphere, producing very heavy rainfall locally as they drift eastward. There will be a risk of localized flooding. In addition, storms may also produce locally gusty winds.
The threat of urban and flash flooding spreads into eastern Ontario, and the Eastern Townships and Montreal in Quebec. The abundance of moisture may allow for some storms to become severe in the regions, with the risk extending westward into a swath of southern Ontario, as well.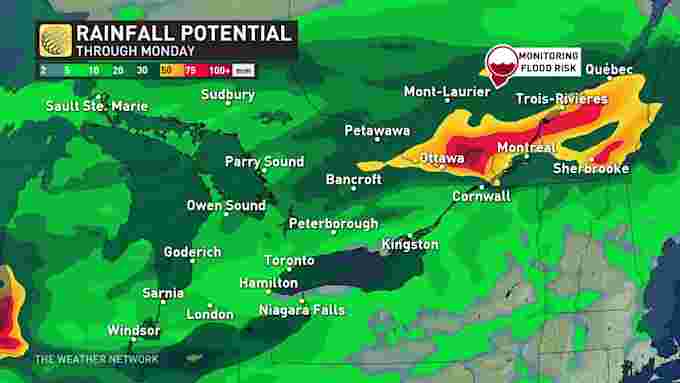 Rainfall warnings are in effect for parts of eastern Ontario and southern Quebec, including in Ottawa. Rain may lead to water ponding on roads and localized flooding in low-lying areas.
"If visibility is reduced while driving, turn on your lights and maintain a safe following distance," warns Environment and Climate Change Canada (ECCC) in the rainfall warning.
MUST READ: Your mid-summer guide to lawn maintenance products
There are also severe thunderstorm watches in place for some areas in southern Quebec.
The threat of storms will be localized, however, and not everyone will see them or any rain for that matter.
Monday: Stormy pattern lingers, but risk diminishes
Beyond the weekend, the active weather pattern will continue Monday.
A developing low-pressure system early Monday will allow for more widespread rainfall and thunderstorms across southern Ontario and Quebec, but some regions will miss out on significant rainfall.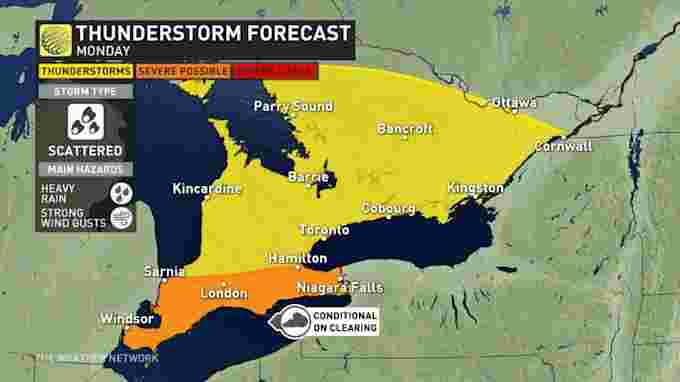 The storm threat will remain confined to southern Ontario and should remain non-severe in nature. Any storms that do pop up may produce heavy rain and strong wind tastes.
By Tuesday, the active weather wanes and temperatures will fall substantially compared to Monday and what was seen on the weekend.
As well, the extreme heat and humidity will ease by the middle and end of this week.
WATCH: How a single Ontario storm can skew your perception of summer
Stay tuned to The Weather Network for the latest forecast details for southern Ontario and Quebec.
Thumbnail courtesy of Louise, taken in Meaford, Ont.
.