Stormy weather is set to return to Ontario Wednesday. Multiple rounds of thunderstorms are brewing across much of Ontario as a complex setup takes shape over the province. These thunderstorms will bring the risk for large hail, torrential rain, and damaging wind gusts. Hot and humid conditions will also return ahead of the cold front passage, with special weather statements in place for some areas. For more on the impacts and timing, read below.
---
Read More: Watch? Warning? How we communicate severe weather in Canada
Wednesday: Multiple rounds of severe storm potential as temperatures, humidity rise
Exceptionally hot and humid conditions are expected on Wednesday, ahead of the cold front, with daytime high temperatures reaching the low 30s and feels-like values ​​into the low 40s for parts of southern Ontario. Overnight low temperatures on Wednesday will provide minimal relief from the heat. Special weather statements are in place for some.
As well, the first round of storms will begin to develop overnight Tuesday near Lake Superior, then moving south and east through the pre-dawn and early Wednesday morning hours. The exact track and timing of this first convective system remains uncertain, but will be a major piece of the puzzle in how the rest of the day plays out.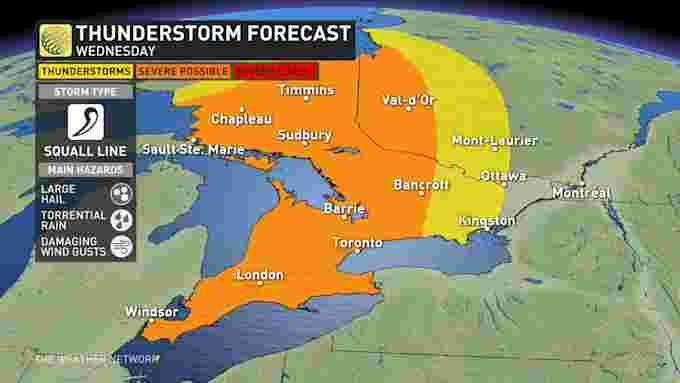 Additional rounds of storms will fire through midday and early afternoon, fueled by whatever instability has rebuilt in the wake of the morning's storms. These should merge into a line, bringing the threat for torrential rain and damaging winds, but embedded areas of rotation may be possible, as well.
Storms will continue to push east through the evening and overnight hours, with the threat for severe storms persisting until atmospheric instability diminishes after sunset and the cold front clears the region.
Make sure to monitor weather alerts throughout the day Wednesday.
WATCH: Three things to watch for during Ontario storm
Stay tuned to The Weather Network for the latest forecast updates in Ontario.
.