Her TikTok video and its comments reveal the frustrations of long wait times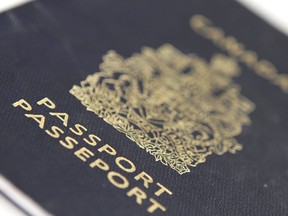 Content item
Whitney B. had three choices to make in order to replace her lost passport before a rapidly approaching international trip.
Content item
She could wait overnight at a Metro Vancouver passport office lineup, pay someone hundreds of dollars to wait in line for her — or do an end run around the problem.
She chose the latter. The Vancouver woman posted a TikTok video detailing how she took an $87 return flight to Edmonton from Abbotsford, an hour east of Vancouver, to avoid the line and the "ah, not so friendly" workers at the Sinclair Center office near Coal Harbour.
All told, she paid $315 to get her replacement passport: $45 for the lost-passport fee, $160 for a 10-year passport and $110 for the same-day urgent passport option (plus the flight and assorted travel costs). Replacing an expired passport or applying for a new one will involve different fees.
Content item
https://vm.tiktok.com/ZMN2XoQxc/?k=1
Whitney B. says in the video that she was in the Edmonton office at 1:30 pm and was out, passport in hand, by 3:55 pm "Smooth sailing," as she put it. And, as a bonus, she says she was able to spend some chill time chatting with others awaiting their appointments.
The Edmonton office is "still busy" but the staff there was "genuinely helpful" and the guards "were so nice," she added.
It did take some planning. She booked an appointment with the Edmonton office the day before by constantly refreshing the online appointments calendar, which she says adds same-day or next-day slots each morning between 8 am and 10 am Then she found a cheap Flair Airlines ticket — a real bonus given the potential of having to pay as much as $1,000 for someone to stand in line for her in a Vancouver passport office.
Content item
Ads offering the services of "passport line holders" on Facebook Marketplace, Craigslist and on personal websites offer such services for frustrated would-be travellers.
With passport lineups still 'far from acceptable,' federal government now posting estimated wait times

Cancellations, staff shortages and COVID mandates: Why there's chaos at Canada's airports
Whitney, a local food blogger, told Vancouver is Awesome the experience in the Edmonton office was "night and day compared to Vancouver" and she was "shocked" to receive her passport so quickly.
"It was impossible to get it in Vancouver without camping out at 7 pm the night before or paying $300 (to $1000)," she said, adding that she didn't have to show proof of travel within 12 to 24 hours as she would have had to in a Metro Vancouver office.
Service Canada has a new feature that allows people to check wait times at passport offices across the country. The agency says it has processed nearly 1.3 million passports between April 1, 2021 and March 31, 2022 — up from about 360,000 over the previous fiscal year — in an indication of how rapidly travel plans have changed since the onset of the pandemic in early 2020 .