Male victim was wanted internationally for fraud, say authorities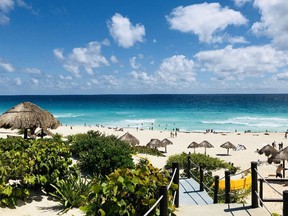 Content item
Two Canadians were found dead in the Mexican state of Quintana Roo with their throats apparently slit, authorities said on Monday.
Content item
The victims, who have not been identified, had stayed in Playa del Carmen for several months, but investigators are still determining whether they were residents or tourists, AFP reports.
Investigators searched the apartment where the bodies were found and discovered the male victim had IDs with three different names. He was allegedly wanted internationally for fraud, authorities said.
Global Affairs spokesperson Jason Kung said the agency is aware of the deaths of two Canadian citizens in Mexico but did not identify them to NP "due to privacy concerns."
"Consular officials stand ready to provide consular assistance to families, and are in contact with local authorities to gather additional information," said Kung.
Content item
A security guard was injured at the same apartment complex, located near the center of the city, prosecutors said on Facebook.
The Mexican beach town of Playa del Carmen is located near the Caribbean Coast in Quintana Roo, which is also home to Cancun and Cazumel.
On Jan. 21, two other Canadians were killed and one sustained injuries in a shooting at a resort located south of Playa del Carmen.
Violence is not uncommon in Quintana Roo, although it is usually outside of tourist locations, according to AFP. The region, while popular with tourists, is an area of ​​drug cartel activity.
Murders in the resort state have nearly quadrupled since 2016, to about 37 per 100,000 residents.
More to Come.